Company Profile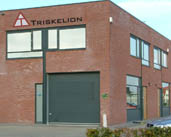 Triskelion Trading Company (TTC) is a consultancy and trading organization, specialized in designing, developing and manufacturing of high quality (stainless) steel, aluminium, glass, brass and rubber products. Our company sources top-suppliers in South-East Asia. With our second base in Thailand we have a strong and alert network of specialized and reliable companies capable of producing almost every kind of technical products. A consistent personal touch is a key factor in doing business in South-East-Asia. For European and American companies this can be very time consuming. Outsourcing of production or part of a process to low-cost-countries is still a favourable choice to achieve cost-reduction.
Products
We offer an extensive range of top quality products, custom made to suit your needs.
Projects
Our products are applied in various prestigious construction projects.
Company Policy
Respecting environmental laws, carrying out a social staff policy, offering safe working places and the presence of a consistent management are strict conditions to become Triskelion's business partners. Therefore the cheapest manufacturer is not necessarily our most attractive supplier. Regarding child labor our company requires even more extensive regulations than strictly necessary. Triskelion's partners are all ISO certified and endorse our company policy. Therefore our Asian associates will warmly welcome our clients on request.
Quality Control
Triskelion's products are manufactured in compliance with modern international standards. Official certificates of origin, in-house testing reports or internationally acclaimed laboratory tests can be presented upon request. An inspiring team of managers in South-East-Asia guide the design- and production processes and ensure stringent quality control. Triskelion also arranges shipping, insurance and clearance.