Rabobank Nederland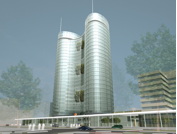 The new head office of Rabobank Netherlands is located at the Croezelaan in Utrecht. Rob Ligtvoet, Designer at the Rotterdam bureau Kraaijvanger • Urbis, the futuristic complex consists of a central plaza which stretches accross 6.000 sqm and a highrise of 50.000 sqm. The two elegant twisted towers are conjoined by a double glass facade. Gardens and squares connect the towers to the plaza and the existing offices. The architecture is based on an innovative, durable and transparent office environment where the concept of 'Office of the future' without designated personal working areas is implemented.
project images | more about this project
London Bridge Tower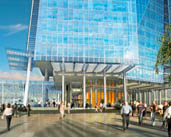 Shard London Bridge, also known as London Bridge Tower, the Shard of Glass, 32 London Bridge and The Shard is a supertall skyscraper under construction in Southwark, London. When completed in 2012 it will be the tallest building in the United Kingdom and one of the tallest buildings in Europe.